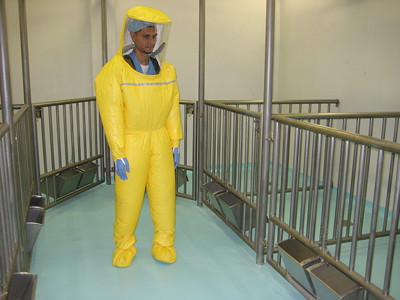 Full protection suit in BSL-3Ag Laboratory
Felix Gmünder is a global biosafety consultant with Basler & Hofmann. We provide solutions for all aspects of biosafety and biocontainment laboratories (BSL-2, BSL-3, BSL-4).
Our architects, engineers and biosafety professionals are involved as laboratory consultants in numerous projects in Asia and Europe. Our services include:
Planning and design of new teaching, clinical, diagnostic, biology, veterinary, microbiology laboratories, or their retrofitting tender preparation and evaluation,


Site evaluation


Maintenance systems (inclusive of maintenance training)


Construction supervision


Commissioning & testing, and


Certification.


We are competent to assist you to design and tendering specialty laboratories from small animal, zebra fish to large animal facilities, plant and arthropod containments, and special applications from transmission electron microscope to PET NMR. Our mechanical engineers evaluate energy-saving engineering measures that factor in local climate, operational requirements, and your budget (investment and running cost optimization).
Our biosafety professionals with laboratory background can provide assistance with:
Biosafety trainings, including hands-on trainings and workshops


Risk assessments


Setting up and implementation of biorisk management systems (biosafety, biosecurity, CWA 15793, SOP, "Biosafety Manuals")


Comprehensive Laboratory Safety (including all hazardous materials and ergonomic issues)


Safety Audits


Felix Gmünder's credentials and experience include:
20+ years experience as a safety consultant and biosafety professional


Member of the Swiss Expert Committee for Biosafety


Singapore Ministry of Health Approved Facility Certifier


Ph.D., M.Sc. Swiss Federal Institute of Technology (Microbiology)


Registered Biosafety Professional (RBP, ABSA)


Certified Safety Engineer (OHS)


Full Scope of Services and Reference Projects
Our full scope of services and reference projects can be viewed here.


Publicity Materials
Biosafety Video Materials